Welcome to Back Story.  
These posts will be catching up from when I was stricken with Cauda Equina Syndrome until starting my blog at Month 4.  
Mar 16th, Fisherman's Wharf Restaurant, Columbus, OH:
From me –  After having changed jobs last year, I had planned for a reunion of my former staff.  We had planned it for March 16th and just because I couldn't walk, was zonked on pain pills, and needed diapers was no reason to postpone it.  We met for lunch and had a great time!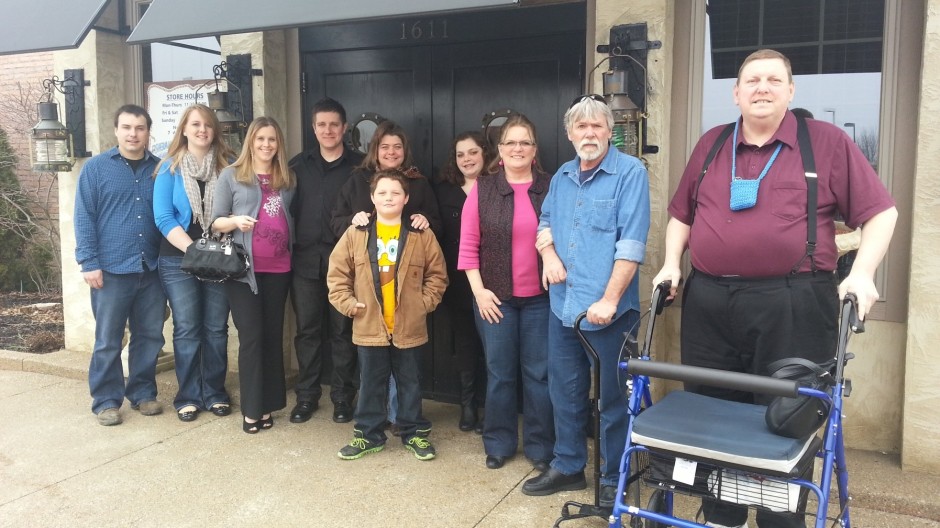 Mar 18th, 2013, Home:
From my wife – We ordered a rollator for David which has a basket (his "purse" of sorts–with wipes, diapers, meds, the whole 9 yards) and a bidet to attach to our toilet seat. NOW he can really experience independence as much as possible. The therapy we're doing at the house keeps him stretched and a bit more limber by the day, although it seems like a very tall mountain to climb. His dr. has modified his medicines, and hopefully his ankle swelling will recede the more he can walk. We are so blessed and fortunate to know that folks keep us in prayer. Thank you deeply!
Mar 19th, 2013, Home:
From my wife – David began his outpatient (out of house) physical therapy this morning. His sessions will be about an hour twice a week for now in Westerville (about 20 min away). The location is fairly close to his workplace so when he gets back to work, they'll be handy and have extended hours. He fared well today and has been given more components in his routine to do twice or 3 x a day, with printout, and he has been "feeling the stretches" today more so than usual. We continue keeping his outcome in prayer and are confident that the Father will heal His way, His time, for His glory!
Mar 27th, 2013, NovaCare Rehabilitation, Westerville, OH:
From me – I'm 4 sessions into my outpatient therapy and making good progress. I plan on returning to work next Monday. I still must use the walker to walk, but I can walk on my own for a few steps before I am unable to maintain my balance. My legs are strong enough, it is not being able to feel what my body is doing on my feet (balance) that is the big drawback at this point. I still am numb from about 3 inches below my waist down to mid-thigh and then tingly-numb and very tender from knees on down to the toes (except the shins – I have normal feeling there.) I am better able to predict the need for a bathroom stop, so maybe soon the incontinence will be a thing of the past. It is a big part of the challenge right now. I go back to the surgeon on Thursday for my first follow up with him. And I am now able to drive again.
Thank you to all who have been praying for us. It has definitely been a time of struggle for us in the physical realm and all of your support has been both special and appreciated by us. We love you all!