Welcome to Back Story, Part 3.  
These posts will be catching up from when I was stricken with Cauda Equina Syndrome until starting my blog at Month 4.  
Apr 17th, 2013, Home:
From me – my rehabilitation continues and I am seeing improvement, which is welcome, but not always pleasant. As I start getting feeling back in an area, it is usually pain that I feel. I've had a lot of pain related to a very tight piriformis muscle in my right hip. I've had exercises and stretches for it, which have helped some. As some other pains have subsided, it is time to concentrate on the biggest pain I feel right now and that is at the top of the hip on the back side. It comes from a knotted up, top end of the piriformis.
Monday at Physical Therapy, my therapist took about 5 minutes to do a deep muscle massage of that spot. It "hurt good" the whole time. A few minutes after the massage, the pain decreased to nothing. I had much better mobility, no pain from walking or sitting! Monday and the first 1/2 of Tuesday were great. Then, of course, the muscle started tightening again. Thursday I have my next PT session. Kim is going with me and my therapist, Carrie, is going to show her where and what to do. During the relief from this pain, I need very little pain medication. Now that is a goal I'm looking for!
I'm working 1/2 time right now, and with the PT and still rebuilding stamina, that works good for me. I will stay at 1/2 – 3/4 time a few more weeks then try to make it back to full time.
Feeling recovered in the last week:
Right outside thigh (parts) – result is that I feel the tight, inflamed tendon there now
Bottoms of feet – I can now feel when the floor is cool
Top of right foot – anything that touches it feels like I'm being stung by a wasp
Both calves – I can now feel the cramps they have been having
Still numb/no feeling:
Backside and groin areas
Thighs – back side, upper 4 inches only, both legs
Lower legs – I can tell touch to these areas, no pain in shins or sides, calves cramping though
Feet & Ankles – still mostly numb
Still hard to balance – I can stand without assistance for 60 – 90 seconds, I can reach a short distance (in certain directions only) for objects
Sitting – still tough to sit for long. Some chairs I can last an hour, others 10 minutes. And how long I can bear to sit in which chairs changes from day to day.
Walking (with walker) – pain from the piriformis usually limits me to walking around 400 feet at a time with a long rest in between
Walking (with cane) – I can now walk short distances (<50 feet) with a cane. Very tiring to do so, so I don't do it much. Therapist recommends 3 short cane walks a day.
Walking (unassisted) – I can walk very slowly, make dead sure of my balance for each step, for a distance of 5 – 8 feet. This is new.
Summary – progress being made, a long way to go yet. Keep on praying for Kim and me as there are still other issues from the cauda equina syndrome which are likely to never get back to normal and affect everyday life. These are the toughest as there is no treatment available for these issues, it is just up to the Lord whether the nerve damage heals or not.
Our hopes and faith are in God's hands. Praise be to God for His blessings!
Apr 26th, NovaCare Rehabilitation, Westerville, OH:
From me – Well today is a sad day of sorts. It is my physical therapist's last day here in Ohio. She is a Doctor of Physical Therapy student who has been doing her final internship at NovaCare in Westerville. After today, she will be finished and headed back to Buffalo, NY to graduate. Congratulations, Carrie!
NovaCare had a goodbye party for her yesterday with a Shrek theme. Carrie was dressed up as Donkey. As for me, the following picture will confirm what some of you have thought about me for a long time….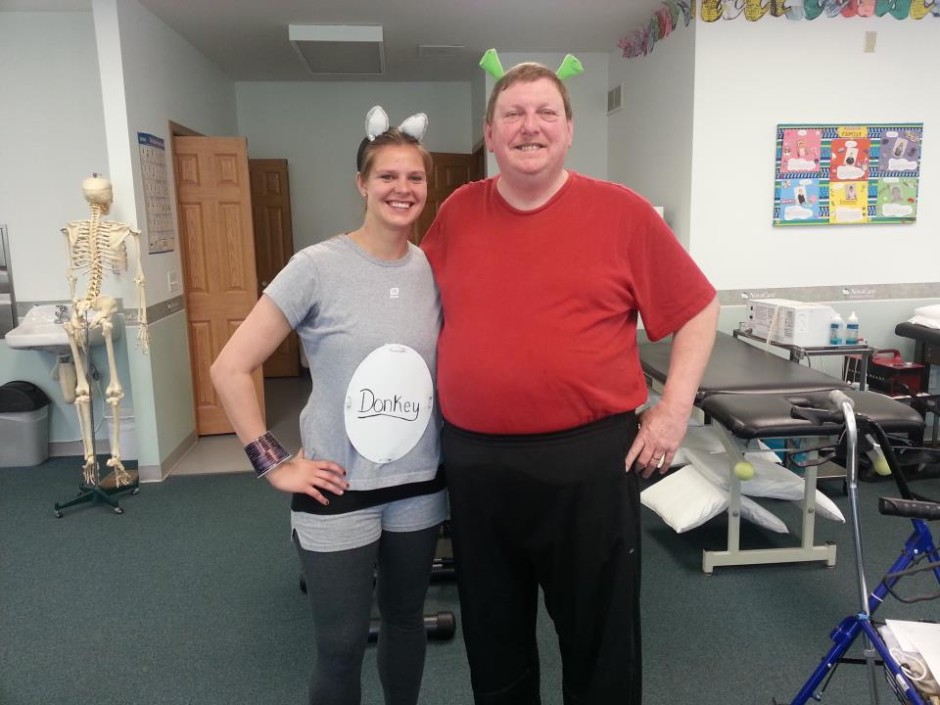 Apr 20th, 2013, Home:
From me – Bummer… but good, I hope. The front of my right thigh feels like it is itching. Of course when I scratch it, I don't feel a thing. But I'm hopeful that this is an indicator of feeling coming back to that area. However, nothing escapes the fact that it is a total bummer having a body part itch and not be able to get relief from scratching it 🙂
And with that, we come to the end of the back story.  Continue with Month 4>>>